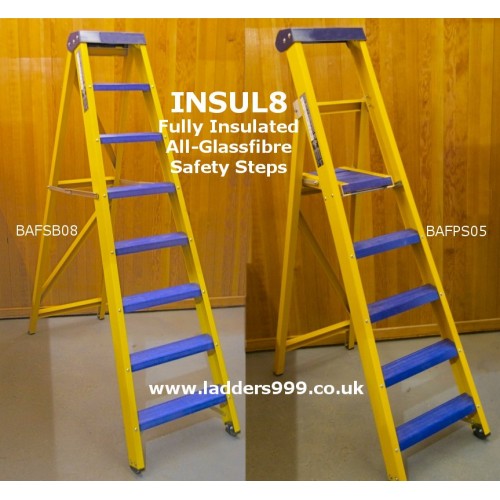 "Insul8" ALL-GLASSFIBRE Safety Steps
Prices from
£
246.00
ex. VAT
£
295.20
inc. VAT
£
295.20
inc. VAT
View Products
Product Features
INSUL8 steps are fabricated entirely from glassfibre for full Zone 1 compliance and safety.
Glassfibre side stiles, glassfibre non-slip serrated treads plus glassfibre back legs, plus serrated rubber feet. No alloy here! 
Truly & fully non-conductive stepladders with the distinctive BLUE treads.
All models fully tested, approved and kitemarked to BSEN131 with a max safe load 150kg.
Also available are all-glassfibre Industrial Platform Steps - made to exactly the same specification but with a large glassfibre platform which also takes a safe working load of 150kg.
Double-Sided INSUL8 steps have insulated treads on BOTH sides for added strength & convenience.
INSUL8 steps & ladders are tested, approved and kitemarked to BSEN131 but also comply with the following standards  -  American ANSI 14-5 and  Electricity Supply IND 13-1.

Note the "overall height" of Platform Steps - do not order too high

.
Not stocked.  Made-to-order and delivered FREE mainland UK in 21 - 28 days

.
1. Insul8 All-Glassfibre SWINGBACK Steps - kitemarked BSEN131
Code
Overall Height Open
No. Treads
Platform Height
Weight (Kg)
Price
ex / inc VAT
Qty
BAFSB04
1.02m / 3' 4"
4
-
8.5
BAFSB05
1.25m / 4' 1"
5
-
10.0
BAFSB06
1.53m / 5' 0"
6
-
12.5
BAFSB07
1.78m / 5' 10"
7
-
14.0
BAFSB08
2.03m / 6' 8"
8
-
15.5
BAFSB09
2.29m / 7' 6"
9
-
19.0
BAFSB10
2.54m / 8' 4"
10
-
20.5
BAFSB12
3.04m / 9' 11"
12
-
24.0
BAFSB14
3.54m / 11' 7"
14
-
28.0
2. Insul8 All-Glassfibre PLATFORM Steps - kitemarked BSEN131
Code
Overall Height Open
No. Treads
Platform Height
Weight (Kg)
Price
ex / inc VAT
Qty
BAFPS03
1.38m / 4' 6"
3
0.68m / 2' 3''
8.0
BAFPS04
1.63m / 5' 4"
4
0.93m / 3' 1'
9.5
BAFPS05
1.88m / 6' 2"
5
1.18m / 3' 10''
11.0
BAFPS06
2.13m / 7' 0"
6
1.43m / 4' 8''
12.5
BAFPS07
2.39m / 7' 10"
7
1.68m / 5' 6''
14.5
BAFPS08
2.64m / 8' 8"
8
1.93m / 6' 4''
16.5
BAFPS09
2.90m / 9' 6"
9
2.18m / 7' 2''
19.0
BAFPS10
3.15m / 10' 4"
10
2.43m / 7' 11''
21.5
BAFPS12
3.65m / 12' 0"
12
2.93m / 9' 7'
28.5
3. Insul8 All-Glassfibre DOUBLE SIDED Steps - kitemarked BSEN131
Code
Overall Height Open
No. Treads
Platform Height
Weight (Kg)
Price
ex / inc VAT
Qty
BAFDS04
1.07m / 3' 6"
4
-
8.5
BAFDS05
1.32m / 4' 4"
5
-
10.0
BAFDS06
1.58m / 5' 2"
6
-
12.5
BAFDS07
1.83m / 6' 0"
7
-
14.0
BAFDS08
2.09m / 6' 10"
8
-
15.5
BAFDS09
2.34m / 7' 8"
9
-
19.0
BAFDS10
2.59m / 8' 6"
10
-
20.5
1. Insul8 All-Glassfibre SWINGBACK Steps - kitemarked BSEN131
Code
BAFSB04
Overall Height Open
1.02m / 3' 4"
No. Treads
4
Platform Height
-
Weight (Kg)
8.5
QTY
Code
BAFSB05
Overall Height Open
1.25m / 4' 1"
No. Treads
5
Platform Height
-
Weight (Kg)
10.0
QTY
Code
BAFSB06
Overall Height Open
1.53m / 5' 0"
No. Treads
6
Platform Height
-
Weight (Kg)
12.5
QTY
Code
BAFSB07
Overall Height Open
1.78m / 5' 10"
No. Treads
7
Platform Height
-
Weight (Kg)
14.0
QTY
Code
BAFSB08
Overall Height Open
2.03m / 6' 8"
No. Treads
8
Platform Height
-
Weight (Kg)
15.5
QTY
Code
BAFSB09
Overall Height Open
2.29m / 7' 6"
No. Treads
9
Platform Height
-
Weight (Kg)
19.0
QTY
Code
BAFSB10
Overall Height Open
2.54m / 8' 4"
No. Treads
10
Platform Height
-
Weight (Kg)
20.5
QTY
Code
BAFSB12
Overall Height Open
3.04m / 9' 11"
No. Treads
12
Platform Height
-
Weight (Kg)
24.0
QTY
Code
BAFSB14
Overall Height Open
3.54m / 11' 7"
No. Treads
14
Platform Height
-
Weight (Kg)
28.0
QTY
2. Insul8 All-Glassfibre PLATFORM Steps - kitemarked BSEN131
Code
BAFPS03
Overall Height Open
1.38m / 4' 6"
No. Treads
3
Platform Height
0.68m / 2' 3''
Weight (Kg)
8.0
QTY
Code
BAFPS04
Overall Height Open
1.63m / 5' 4"
No. Treads
4
Platform Height
0.93m / 3' 1'
Weight (Kg)
9.5
QTY
Code
BAFPS05
Overall Height Open
1.88m / 6' 2"
No. Treads
5
Platform Height
1.18m / 3' 10''
Weight (Kg)
11.0
QTY
Code
BAFPS06
Overall Height Open
2.13m / 7' 0"
No. Treads
6
Platform Height
1.43m / 4' 8''
Weight (Kg)
12.5
QTY
Code
BAFPS07
Overall Height Open
2.39m / 7' 10"
No. Treads
7
Platform Height
1.68m / 5' 6''
Weight (Kg)
14.5
QTY
Code
BAFPS08
Overall Height Open
2.64m / 8' 8"
No. Treads
8
Platform Height
1.93m / 6' 4''
Weight (Kg)
16.5
QTY
Code
BAFPS09
Overall Height Open
2.90m / 9' 6"
No. Treads
9
Platform Height
2.18m / 7' 2''
Weight (Kg)
19.0
QTY
Code
BAFPS10
Overall Height Open
3.15m / 10' 4"
No. Treads
10
Platform Height
2.43m / 7' 11''
Weight (Kg)
21.5
QTY
Code
BAFPS12
Overall Height Open
3.65m / 12' 0"
No. Treads
12
Platform Height
2.93m / 9' 7'
Weight (Kg)
28.5
QTY
3. Insul8 All-Glassfibre DOUBLE SIDED Steps - kitemarked BSEN131
Code
BAFDS04
Overall Height Open
1.07m / 3' 6"
No. Treads
4
Platform Height
-
Weight (Kg)
8.5
QTY
Code
BAFDS05
Overall Height Open
1.32m / 4' 4"
No. Treads
5
Platform Height
-
Weight (Kg)
10.0
QTY
Code
BAFDS06
Overall Height Open
1.58m / 5' 2"
No. Treads
6
Platform Height
-
Weight (Kg)
12.5
QTY
Code
BAFDS07
Overall Height Open
1.83m / 6' 0"
No. Treads
7
Platform Height
-
Weight (Kg)
14.0
QTY
Code
BAFDS08
Overall Height Open
2.09m / 6' 10"
No. Treads
8
Platform Height
-
Weight (Kg)
15.5
QTY
Code
BAFDS09
Overall Height Open
2.34m / 7' 8"
No. Treads
9
Platform Height
-
Weight (Kg)
19.0
QTY
Code
BAFDS10
Overall Height Open
2.59m / 8' 6"
No. Treads
10
Platform Height
-
Weight (Kg)
20.5
QTY
Not stocked.  Made-to-order and delivered FREE